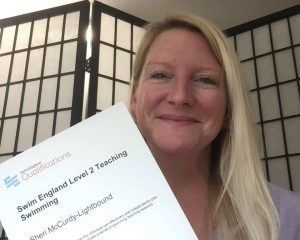 Congratulations to Sheri McCurdy who passed her level 2 swim teacher's certificate earlier this year, here's her story…
Growing up in the Southern U.S. Sheri has always been a water baby, she could probably swim before she could walk! Once at university she started taking part in competitions with front crawl being her best stroke. After moving to California, she did triathlons and enjoyed long distance swimming in open water. Sheri was clearly destined to be a swim teacher…
However, Sheri's swimming changed when the children came along and it became more splashing around, making sure the children weren't afraid of the water. She was also no longer living in the California sunshine and had moved to Hong Kong where it was all a little different.
In February 2016 after moving from Hong Kong to Sussex, Sheri joined the Dolphin Ladies Swimming Club primarily as a way to meet people and to get swimming again. Despite being such a competent swimmer Sheri had never actually had any formal lessons and she says 'the ladies were so welcoming and it was fun to learn all the strokes, (even butterfly!) and of course to have a chat'
Sheri was keen to give something back to the Dolphin Ladies and took up the challenge of becoming a teacher; in May 2017 she completed her level 1 and began teaching at the club. Now qualified as well as being a volunteer teacher at the Dolphin Ladies, she helped to teach the nursery children at Ardingly College PrePrep.
Sheri likes to push herself so took the level 2 course and successfully completed this in May 2019, she now teaches the Dolphin Ladies twice a week, Ardingly nursery children, St Peter's children and is on contract with Ardingly College as a cover swim teacher. And if that's not enough to keep her busy she's also a psychologist.
Swimming is most definitely in the blood; Sheri's son is a county swimmer for Marlins and at the age of 12 is achieving regional times in his group and her daughter at the age of 5 has achieved her stage 3 Swim England Learn to Swim badge… And as for Sheri, her next goal is to compete in the Sussex Masters!
Sheri says 'swimming is great exercise and an important life skill'. She loves seeing the look of accomplishment on someone's face when they achieve more than they ever thought possible… So ladies, what are you waiting for – make time for exercise – make time for swimming, you know it makes sense.
Sheri will be teaching Dolphin Ladies on Mondays at Ardingly and Tuesdays at The Dolphin Leisure Centre in Haywards Heath. She loves meeting all the ladies, whether they are a complete beginner or an advanced swimmer – there is always something to learn.