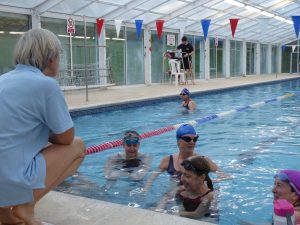 Dolphin Ladies Swimming Club is a friendly, not for profit, teaching club for ladies.  It was founded over 40 years ago and like many swimming clubs for adults, it is run entirely by volunteers.
The classes cater for women of all ages and abilities, from beginners right through to pre-competitive swimmers. We can help ladies who have a deep-seated fear of the water, an injury or pain, or who are antenatal, post-surgery etc.  We also help competent swimmers improve their stroke technique, stamina and speed.
We teach in a relaxed atmosphere, allow swimmers to develop and improve at their own pace with plenty of reassurance and empathy.

Dolphin Ladies Swimming Club is a member of Swim England.